Visiting Bend Oregon for the Bend Marathon
Best places to eat, stay and other things to do
There are so many awesome things to do in Bend when visiting for the Bend Marathon. I'm an Oregon native who lived in Bend for 8.5 years (late 2005 to early 2014) enjoying the outdoor lifestyle prior to relocating to Chicago suburbs. The company I work for is based in Bend therefore, I visit many times throughout the year to keep my Bend knowledge sharp. I'm not a marathoner but I have been running for a few years and yes, I'm still really slow. I started on a treadmill before graduating to running outside and completed my first 5k in 2014.
Before I jump into my Bend area recommendations, I want you to be aware that my marathon recommendations will, for the most part, keep you near the race start and finishing lines. The Downtown and Old Mill areas are my favorite spots with the most to see/do/eat AND given you're probably visiting Bend for 2 days or so you won't want to bother exploring the East or North sides. Everything awesome in Bend is either near the river or near the mountains.
THIS IS A GOOGLE MAP LINK TO EVERYTHING I MENTION BELOW. CLICK HERE
How to GET AROUND when visiting Bend to run the Bend marathon:
You will want to get a rental car after landing in Central Oregon from the Redmond airport prior to arriving in Bend, not only because your legs might be sore or stiff but also since you might be visiting with your cheering section and/or kids who may want to do more exploring. Although a lot of Bend can be experienced on foot, I have done this many times while staying as a tourist, I find a car to be more convenient at times, such as after enjoying a few frosty beers at the Crux fire pit.
Cascade Lakes highway closes during the winter but *should* be open by the end of April. I HIGHLY recommend taking a drive and stopping at ANY of the lakes. The Lakes may be a little snowy or muddy given the time of year but you will have beautiful, scenic views. Even the drive is nice! Give yourself a few hours for this. My favorite lake is Todd Lake, first one after Mt Bachelor, a two-mile loop. I hear it's easy for people with kids. My second favorite is Elk Lake; a lodge with boat/paddleboard rentals. Enjoy a beer and yummy food whiling taking in the view of Mt. Bachelor's alpenglow from the patio.
Best things to DO when visiting Bend to run the Bend marathon:
Running in the Bend Marathon course is designed to give you first-hand knowledge of many favorite areas in Bend's downtown and west side ranging from cityscapes of downtown to mountain views on Century Drive. What better way to get to know the race course than to experience the areas and lightly recreate before or after race day. In an effort to give you ideas for low impact activity, I have compiled a list of only a few of the things I like to do when visiting Bend.
• The Pavilion is a new ice skating rink that opened in Bend. I haven't visited yet but all my friends who have loved it!
• Inn at Seventh Mountain has a lot of fun tours and activities you can sign up for including whitewater rafting, horseback riding and more!
• The hike up to and around Tumalo Falls is fun and quick day trip.
• Wander around REI and other Old Mill Shops.
• Take a stroll in any of my favorite city parks such as Drake Park, which looks over Mirror Pond,the namesake for a widely popular Deschutes Brewing beer, or Riverbend Park, a favorite starting point for floating the Deschutes river during the summer and popular Deschutes River Trail loop.
• Deschutes brewery tour is a must while visiting Bend. Enjoy free tastes of some Bend's best brews.
• Bend Ale Trail is a fun self-guided brewery tour of 16 local breweries. When you visit each, get a stamp on the visitor center's downloadable PDF or mobile app to redeem a prize! Spoiler: It's a silipint! This may be tough to accomplish over one weekend but thankfully, you can rack up stamps and redeem for a silipint anytime.
• Walk or drive up Pilot Butte (360-degree views of the city)…although this does take you to the east side of Bend. 🙂
• Check out the work of many local Bend artists at Red Chair Gallary or Mockingbird Gallery.
Best places to STAY when visiting Bend to run the Bend marathon:
I highly recommend staying at the DoubleTree by Hilton downtown Bend if possible. I stay there every time I visit Bend for work and love its location as well as the $10 breakfast bar (best deal in town and actually yummy food). Most everything downtown is walkable from this hotel including the starting point of the race.
Other great spots to stay would be anywhere close to the Old Mill with a view of Mt. Bachelor.
Best places to DRINK when visiting Bend to run the Bend marathon:
Being situated above naturally occurring aquifers and underground volcanic filtration means Bend has super high-quality ground water. Whether you enjoy a hot cup of locally roasted coffee, a new blend of perfectly selected tea leaves or prefer a frosty glass of local micro brew, Bend has it all.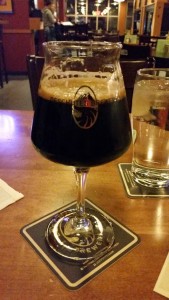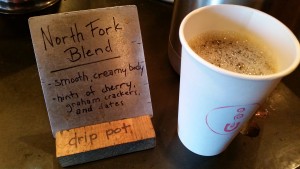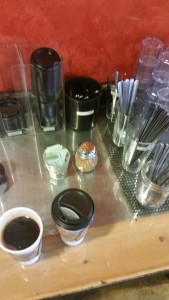 • Beer-
Sit and chill spots Deschutes, McMenamins, Crux, Bend Brewing Co, (10 Barrell is super popular but they got bought out by Anheuser-Busch. Big bend drama!)
• Beer to drink –
Boneyard RPM is usually on draft anywhere you go. Yes, it's an IPA.  I'm sure if you picked Bend as your marathon destination, beer was a big reason why therefore you need to give this beer a try.
• Wine –
Sip Winebar, The Wine Shop flights are my fav!
• Tea –
Townshend's Tea Company. OMG. SOOOO good! They have a huge selection of local teas, smell them from the wall before you order.
• Coffee –
Backporch, Thump or Strictly Organic are all good.
Best places to EAT when visiting Bend to run the Bend marathon:
I wouldn't go as far to say that Bend is a "food town" like Chicago or New York but a few culinary gems exist downtown and in the Old Mill. My all time favorites are McKay Cottage, Barrio and Joolz. All of which will lend them to the carb-load you need before race day..
• Breakfast –
McKay Cottage is my all time favorite breakfast spot in Bend. I love the free coffee they offer out on the porch with warm heaters on a cold day. During the spring and summer, it's also nice to enjoy your meal out on the front patio. And of course, the food is delicious. You have to try the homemade scones or breakfast burrito but not together.
Victorian Cafe is my second favorite breakfast spot. All the menu is delicious but I'm especially fond of the MANmosa!
• Cheap –
Food carts called The Lot. Great outdoor seating with heaters
Cafe Yumm is a popular vegetarian-friendly chain. However, don't let that deter you, you will get addicted to the yumm sauce
Pho Viet is the best spot to get your fill of tasty, hot Pho. Friendly, fast and delicious! Ask for the large P2 and you will walk away full for less than $10.
• Moderate –
Greg's Grill is a favorite down in the Old Mill. Yummy plates and wine selection. I recommend  any of their fish dinners.
Barrio has the freshest, delicious "latin-inspired" menu in Bend! Try any of their  tacos, tapas or paella.
Noi is my favorite Thai restaurant in Bend. The have 5-6 different flavors of rice to choose from. My fav is the crispy garlic chicken with coconut rice. mmm, now my mouth is watering.
Joolz is Mediterranean and Southwest fusion and has great beef and lamb options that I would be remiss not to mention the amazing baba ganoush!
• Fancy –
Zydeco is the token fancy spot downtown. Meh. I would much prefer any of the moderate to cheap spots.
Other food up in NW crossing. I'm not as familiar with that area.
What weather to expect when visiting to run in Bend marathon
:
During late April, I expect the temps to be relatively warm (high 50's to low 60's) especially on a sunny day but if any cloud cover or wind is present it could cool down considerably leaving you to have a bit of a chill. Layers are key when visiting Bend!
Evenings will cool down considerably. Usually, a 20 degree drop from day to night.
If you loved visiting Bend for the marathon during late April, you will want to come back to visit in the summertime when temperatures rise, Les Schwab Amphitheater concerts are in full effect, and floaters and boaters alike are running the Deschutes river.
THIS IS A GOOGLE MAP LINK TO EVERYTHING I MENTIONED ABOVE. CLICK HERE