My First Whole30 Experience, Results and Recommendations
I chose to do the Whole30 for one reason. I felt gross and needed to detox my body.
I was experiencing a lot of bad bloat and stomach issues that left me with a constant feeling of fullness no matter how little I ate or how many herbal remedies I tried. I hadn't ever tried a detox before but I had been toying with the idea of a cleanse at my boyfriend's suggestion.
The Basics
The Whole30 is a 30-day whole food detox program developed by Dallas and Melissa Hartwig who, together, wrote the book It Starts With Food (2012). They have since done an amazing job at branding the program through a new book called The Whole30 and website which has sparked a huge online community of people sharing their experiences.
I'm not going to go into too much detail on the basics of the Whole30 since there are many resources online that do a way better job than I could at explaining everything needed to know about the program.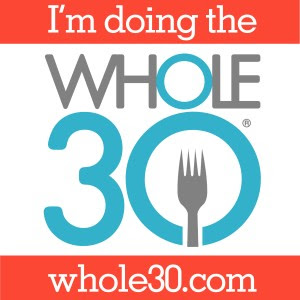 Deciding to do the Whole30
After enduring many days of complaining about my stomach, my boyfriend had suggested buying a detox from the Vitamin Shoppe. However, I really didn't have any interest in overly processed drinks or "cleanse" pills nor did I want to limit myself to eating or drinking the same thing for multiple days in a row.
I had read the book It Starts With Food back in Dec 2012 as a referral from a trainer I was working with. The book helped me tremendously to understand how our bodies use food, break down nutrients, release hormones and more. I remember taking meticulous notes and even going as far as reading through the cited sources; looking up a few of the scientific studies mentioned throughout the book in order to understand as much as I could.
Basically, I completely immersed and obsessed over the book. At that time the Whole30 wasn't the brand it is today. In fact, the brand was originally called Whole9, and all the supplement information referencing the Whole30 program in the book was online for anyone anywhere to read and download.
I remember back in June 2013 talking with a friend of mine about the book and wanting to do the Whole30. We signed up for the daily, (back then free) accountability newsletter but like most things, restrictive I never followed through. Looking back, I didn't have the right mindset to complete the Whole30. Heck, I can't recall if we even started but this program stuck in my mind through the years. And luckily, my recall was good enough to think about it as a solution to my current issue.
So when I saw the newly published The Whole30 (Apr 2015) book on the shelf at my local public library, I grabbed it, took it home and started to re-familiarize myself with the program.
At first glance, the program can seem a bit limiting.
• No sugar.
• No alcohol.
• No grains.
• No dairy.
• No legumes.
• And none of that other stuff like pancakes, carrageenan, etc.
But I focused on all the eating options.
• Any type of protein*
• Any type of vegetables*
• Any type of fruit*
• Any type of fat*
• *if it doesn't contain any of the "off limit" foods
My goal was to do the program to the letter allowing me to bring my body back to a "baseline." Then, experiment with reintroducing food groups slowly allowing me to learn how my body reacted to certain foods.
Completing a Whole30
I'm proud, and a bit surprised, to report that I completed the Whole30. I lasted the entire 30 days eating nothing but whole foods.
My biggest challenge was the no sugar. I have a huge sweet tooth for all things fruity and chewy such as gummy worms or licorice, my most favorite are Twizzlers brand anything. But I did it! I made it through an entire 30 days without any sugar. This also means no added sugar. To anything. You know how many condiments have added sugar? All of them! Including ketchup.
No sugar also meant, no sweeteners, honey, syrup, alcohol. No sweetener in my morning coffee was hard at first but then I found a really good unsweetened cashew milk from the brand Silk that was super tasty and made morning coffee much more pleasant.
The program wasn't easy but it wasn't hard either. Well, to be perfectly honest it was hard. It was a day-to-day mindful decision to stick to the Whole30 program. Every day I had to consciously decide if I was going to go off-program but thankfully I set up my environment in advance to make going off-program difficult.
It wasn't easy to cook every meal, every day. Yes, I was eating super delicious, high-quality meals but at the cost of hours of shopping, prep and preparing. As the month progressed, I found ways to minimize the amount of time it would take but overall the program was super timing consuming.
The difficulty reached a crescendo on day 15, Sunday, Super Bowl 50, as I sat in my favorite pub watching others eat all the food, drink all the drinks and smell all the smells that I couldn't enjoy. It was awkward ordering a dry salad with grilled chicken with oil/vinegar dressing but I'm proud to say I persevered and I like to think I'm a stronger person for it…although I would've much rather dived head first into a plate of nachos.
My Whole30 Results
During the Whole30 I felt a substantial reduction in my belly bloat and stomach issues. I would like to say, it was completely gone but I did have 2 days where my digestive system did not feel great. I thought I had traced the issue back to some undercooked chicken but when it happened a second time days later with nothing to pinpoint as the culprit I was at a loss.
I was able to tell right away, that my sleep schedule improved. I no longer woke up in the middle of the night or felt the need to sleep late into the morning. My energy levels throughout the day leveled out after my body adjusted to using fat as fuel instead of sugar. I could easily tell if I needed to eat more food because my energy would drop substantially.
Overall, I would recommend the Whole30 to anyone who is suffering from bloat or digestive issues. I found it helped to bring my body to a "neutral" state where I felt really good. Also, I would recommend the Whole30 to anyone who wants to challenge themselves to eat less processed foods and sugary sweets while allowing you to eat delicious whole foods at almost any time of the day.
In addition, I found out that I'm not sensitive or intolerant of any food groups like dairy, grains or gluten. My body is slower to digest gluten and beef which can lead to a "bloated" feeling but if I'm mindful of the portion sizes and how often I have those two things, I'm fine which makes me super happy since I love me a good piece of beef!
Before I send you off on your Whole30, I recommend reading my tips for success.
Top 4 Tips for Success when doing the Whole30
• Plan in advance.
I carefully planned when to start my Whole30 and ended up picking a date relatively far in the future (after the holidays and annual Oregon vacation). I also, cleaned out my cupboards of any "off limit" foods. Spoke at length with my boyfriend who also shared food cupboards with me and agreed upon what he could and could not have in the house or eat in front of me while on my Whole30.
• Prep as much as you can ahead of time.
I'm not the kind of person who likes to eat leftovers for multiple days in a row but I do like to have access to prepared ingredients so I can quickly make a meal when I'm hungry. I would cut up vegetables like onions, carrots and broccoli which made it super easy to throw in a pan for cooking. I also baked cut potatoes and kept them in the fridge to easily add to eggs in the morning or veggies in the evening.
• Stay busy.
A lot of my sugar cravings are a result of being bored and having nothing to do with my hands. I think this stems from when I used to smoke cigarettes which is an entirely different story about challenging yourself but I learned that I need to have something in my hands to keep my occupied. This can be my phone (as long as it's interesting) or my computer or a craft project but ultimately keeping my mind busy helped to keep my cravings at bay.
• Consume as much Whole30 information as possible. No pun intended.
I read everything possible about the Whole30 program, experiences, and results prior and during my Whole30. Rereading this information helped to remind me why I was doing the Whole30 in the first place. I would get motivation from others and also spark new recipe ideas. There is an entire community of people online who have completed one or more Whole30s who are all willing to encourage, answer questions, or give tough love. Some of my favorites were Whole30 forum, YouTube videos Gentlemen Next Door, Instagram and Whole30 book.
Here is one of my favorite recipes from Nom Nom Paleo's Cookbook